After a long war in Overcorner, there are many fighters who have nothing to do.
"What a great opportunity!" said a new Scratch Lords player.
New rough "sport" is arising here. You can become the manager of a battle arena with a lot of fearless fighters. Each of them is unique and looks visually different!
​
Find the best tactics for each of the heroes. Equip them with mighty weapons and armor, improve them and trade with other players! Win the best rank in leagues and tournaments. Make big money! And most importantly, have fun!
No one will have 2 visually same cards.
There are millions of unique warriors
Sophisticated Rarity System
2 dimensional card rarity (

common to legendary

) and warrior's innate power as a second scale
Maximum tactic with minimum components in fast-paced battles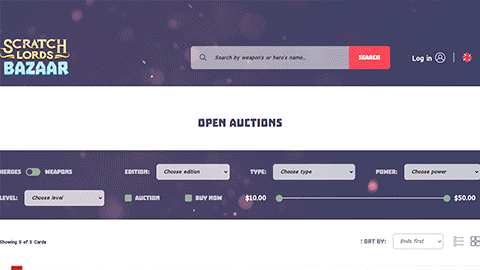 Win Scratch tokens in duels, leagues and tournaments. Trade rare NFT cards at the dedicated NFT market!
Would you like to be among the first players, who will know about exclusive NFT and token drops, new features and be the first to try the game after release? Leave us your e-mail below, so you don't miss out.
• Chance to get NFTs for free
• Info about NFTs drops
• Info about token release
• Info about the game release
• Info about our events
• Community polls (to help us with game development)
• No spam, only relevant information and offers
What you will get for it:
What does it mean "by gamers for gamers"?
We are developing a unique NFT game with play-to-earn mechanics and a huge emphasis on gameplay, tactics, and fun. The game was developed with the intention of having a rock solid game design and mainly being a good one. Hence NFT and play-to-earn will not only be a superficial attraction but a meaningful superstructure expanding the perfect gaming experience.
We'll introduce a few NFT drops, but the main source of NFTs in the game will be scouting new warriors or weapons or acquiring additional equipment, such as helmets and armor, by playing. All items (heroes, weapons, equipment) and even the scouts themselves will be tradeable on a dedicated secondary market! Later, we'll also introduce arena tiles for the construction of your own battle arenas.
​
You can look forward to earning a cryptocurrency for every victory in the game. If you want to earn a lot of them, you have to win tournaments, leagues…You can also bet crypto coins in a battle with your friends on request or in duels with live opponents. Later, you will be able to trade your tokens for a real cash and therefore make money simply by playing the game
We are group of game developers with a lot of experiences in the gaming industry. We worked in companies like Geewa, Keen Software House, Disney, Jirasgames, etc.
We personally guarantee the quality of the game and project viability.